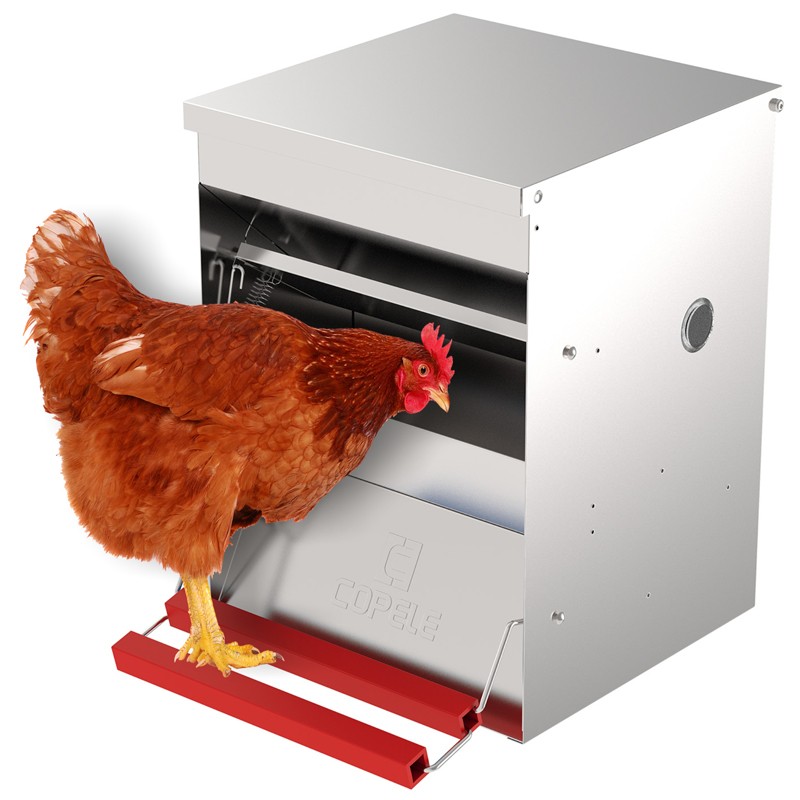  
"Safeed" Automatic Poultry Feeder
Poultry hopper feeder designed to be open with mechanical action. Its design avoids rodents and other birds to contaminate or waste the food.

COPELE quality guarantee

We sell only through official distributors

Contact us for more information
Safeed, is the latest generation of feeder hopper of mechanical drive for birds. It is designed to prevent rodents and birds from accessing and eating, and spilling and wasting food. Is made with hot dip galvanized steel in its structure or body, galvanized rod and perches of PVC profiles in the pedal drive, which allows that hens be posen and ergonomic, and easy to open the door fouling minimally this mechanism.
The amount of chickens feeder-recommended is:
Safeed 6 Kg: up to 3 hens
Safeed 12 Kg: up to 6 hens
Safeed 20 Kg: up to 10 hens
Safeed 30 Kg: up to 15 hens
Safeed 40 Kg: up to 20 chickens
A range that covers any need, from Hobby Farm ecological facilities.
Main features:
Single door with 0 system noises, avoiding the problem of rejection of the animals.
Easy adjustment of resistance of opening from the outside, with four points of regulation to adapt it to any type of bird.
Safeed, is a feeder of opening mechanics, suitable for Interior and exterior, maintaining clean and dry feed.
In the Safeed design security has taken care, both for reliable operation, and to make handling safe, with finishes of bends saves hands to avoid cuts.
The Safeed feeder using saves, to avoid waste of feed spilled to the ground, and thus the disadvantages of fermentation which may result.
Safeed, has a transparent display on each side, to control a low level from outside feed (1/3 of its capacity), without having to access the henhouse to open the lid, except to fill I think.
Hermetic closure, which includes an apron which prevents the entrance its base of any dirt or animal, and a closing of high-strength winds on top.
Form pedal two PVC profiles by way of handholds, facilitating the perched birds nature and access to food for them, avoiding the accumulation of dirt in the area, and thus reducing maintenance. Its exclusive system of return assisted by a spring of stainless steel, ensures to pedal back to its initial position, giving greater guarantee of performance than existing market mechanisms.
Safeed, can be placed directly on the floor, or hang from the two keyholes of their support. You can also install inside or on the outside of the chicken coop, have a lid for filling with reversible opening, towards the front or the back as needed.
Safeed, supplied completely assembled and ready for immediate use, without using more than 10 seconds, if you want to change the default opening sensitivity.
Safeed is undoubtedly the safer alternative to feed poultry. By its excellent performance, by its multiple details and finishes, and for its great variety and versatility, making this the best feeder current mechanical opening hopper.
Data sheet
Measures (front, widht, height)

25x25x38 | 30x30x41 | 30x30x55 | 50x30x50 | 50x30x60 cm

Color

Metal

Material

Galvanized sheet

Capacity

6 | 12 | 20 | 30 | 40 Kg

Box Units

1

Box Measures

25x25x38 | 30x30x41 | 30x30x55 | 50x30x50 | 50x30x60 cm

Boxes per pallet EUR

72 | 40 | 32 | 26 | 20

Boxes per pallet US

96 | 72 | 48 | 36 | 26