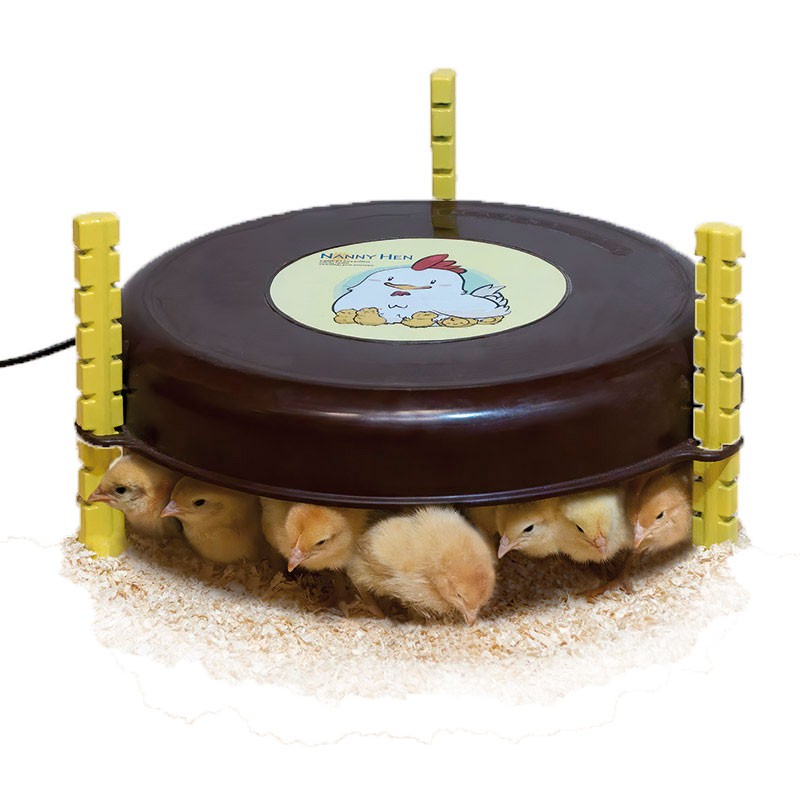  
"Nanny Hen" Chicks Heater
Chick heater that simulates an artificial hen to heat the chicks through an electrical resistance. Its circular design resembles the shape of hens when hatching and its adjustment system also allows us to put one side lower than the other, thus multiplying the versatility of the product for different sizes of chicks.
COPELE quality guarantee

We sell only through official distributors

Contact us for more information
Nanny Hen is a chick heater that thanks to its round shape design and three legs on the outside, there is much more surface area so that the chicks remain with their heads out, and their bodies within the heat zone which is their natural position. The heat is concentrated mainly in the larger diameter, so that the chicks can stay in the center and do not suffer a thermal shock.
Circular design to simulate the natural spread of heat from the hen.
Three-legged stand for greater stability on uneven terrain.
Its adjustable legs give it greater versatility to be used simultaneously with chicks of different sizes.
Larger heat spreading surface. Better efficiency.
Ring-shaped heat spread avoids thermal shock of chicks in the middle.
The chicks retain their natural instinct to cluster in circles and turn facing out of the heater.
Data sheet
Measures (front, widht, height)

ø35,5x19,5 cm

Color

Brown

Material

Plastic

Approximate Unit Weigth

860 g

Box Units

1

Box Measures

38x38x6 cm

Approximate Box Weigth

1100 g

Recommended Animals

24 chicks

Voltage

220 V

Power

18 W