On November 23 at the Murcia City Hall, the Executive magazine held the First Edition of the MURCIA REGION EXECUTIVE AWARDS, where COPELE has been awarded the BUSINESS CAREER award. This event was attended by multiple personalities from the business sector of the Murcia region, including Pedro García Balibrea-Martínez, president of the Murcia Chamber of Commerce Marián Cascáles, president of the Murcian Association of Family Business and José Ballesta Germán , mayor of Murcia.
Francisco Galián Vivancos, general manager of COPELE received his award together with Tomás Fuertes Fernández (Executive of the Year) Cash Europa and Superdumbo (Company of the Year), Murcia City Council (Institutional Management), Fernando José Zaplana Pérez (Professional Career), Star of Levante (Leadership), Inforges Group (Business Strategy), Pijo (Brand), Siux (Quality), Caliche Corporate Group (Logistics), INSIDE (Internationalization), Caravaca de la Cruz (Tourism Promotion), Pimentón de Murcia (Denomination of Origin), Salzillo tea & coffee (Excellence) and Demoresa (Efficiency).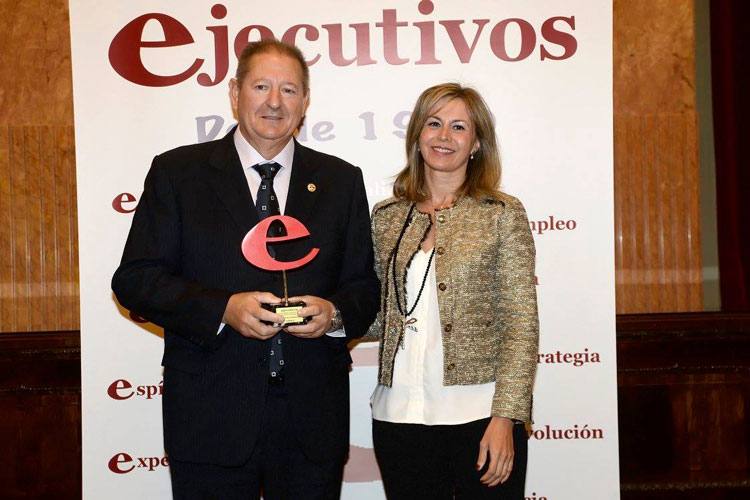 Francisco Galián Vivancos, general manager of COPELE and Olga García, territorial director of the eastern area of Banco Mare Nostrum.
Mª Victoria de Rojas, editor of the magazine, highlighted in her opening speech the greatness of the city of Murcia and extolled the wealth of the business fabric of the region. Likewise, she invited all the honorees to maintain their efforts and to continue taking on new challenges.
Mr. Francisco Galián Vivancos emphasizes that this is a recognition of the collective effort of all those who have been part of COPELE and that their work and dedication have paved the way for the future of the company.