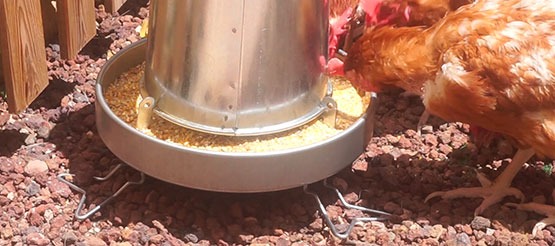 Don't you know which is the best hopper for your chicken? Are you doubting whether to buy a plastic or metal feeder? Do you like metal feeders, but are you afraid of being oxidized? In this post we talk about the advantages of metal hoppers and the solution to make your metal hopper last for a lifetime!
The metal hopper is a great solution for those people who want a feeder with autonomy and that is very resistant to shocks and temperature changes. These characteristics make the metal poultry hopper a more successful solution than a plastic hopper that is more sensitive to shocks, temperature changes and excessive sun exposure.
One of the problems that you can find when buying a metal hopper for birds is the corrosion of its base, since the metal in continuous contact with oxygen plus a wet element generates a rapid oxidation process. It is true that all our metal products have zinc galvanized, which consists of immersion of molten zinc steel to enhance its resistance to rust. But even so, this is a process that slows down oxidation, but does not eliminate it.
As we have said before, oxygen in contact with humid environments accelerates this oxidation. Given this problem, COPELE has created a solution that helps to slow down the oxidation process and provides an esthetic touch to the hopper. The solution we have developed are supports to hold three legs that raise our hopper from the ground to 4 different heights, and are universal for all the metal feeders of our brand.
These supports are made of galvanized wire of considerable thickness so that they can last for many years without compromising the stability of the feeder. This improvement makes our metal hopper last much longer over time, makes it easier for chickens to eat and allows us to put the hopper outside without the need to hang it or lift it for some other purpose such as heavy bricks.