An electric fence is a very practical solution for fencing and protection of animals or plants by electric shocks of high intensity and short duration that prevents the entry or exit of animals.

To ensure proper operation of an electrical fencing proper implementation and installation of each of its components is necessary:
Energizer or fencing device that produces regular electrical shocks.
Conductive material or conducting material, which transports electricity along the fence.
Insulators, poles, handles for hatches, avoiding the current shunt to ground.
Ground rod that allows a good grounding of the electric fence.
Connections and turnbuckles.
Batteries and accessories.
The main element of an electric fence is an appropriate enenergizer device with long durability and fidelity so we recommend the German brand Horizont. Its operating principle is simple: Intimidation through short and harmless electrical impulses when touching the fence wire, these short electrical shocks cause the animal to learn not to approach the barrier fence. The animal will respect the fence as a separation or boundary.
Once the energizer emits electricity, electrical pulses are distributed throughout the conductive material throughout the enclosure. Touching the fence, the current passes through the body of the animal to the ground. The current flows from the ground to the rod of earth returning to the electric fence. Thus the animal closes the circuit and receives a short electric impulse that will scare it, causing that maintains a distance from the fence and so the animal will respect the fence as a barrier that should not be breached.
With proper installation, the electric fence meet all requirements to be a safe enclosure.
Key Benefits:
Economical way to separate fence as animals.
Mobile and flexible to use.
Pastures are allowed to separate easily and quickly. Electrified fences are practical and easy to assemble.
With proper enclosure you can enclose your animals and keep away intruder animals safely (deer, wild boars, foxes, wolves and dogs).
Fencing Height and Measures Guidance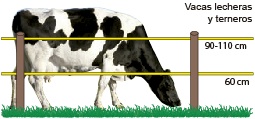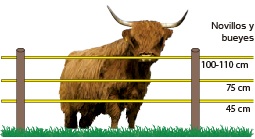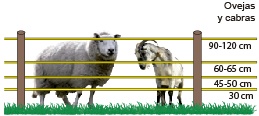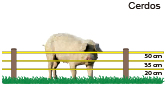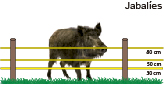 Distances between posts
For the conductive material not to warp between the posts consider the following measures:
For wire and cable:

6 m to 8m (depending on the weight of the material)

For tapes: 

3 m (width 40 mm)
5 m (width 20 mm)
6 m - 8m (width 10 mm)

For electrical cords:

4 m (Ø 7 - 8 mm)
6 m (Ø 5 - 6 mm)
Please keep in mind the local conditions.
For more information on installing and implementing solutions for pets or livestock contact us here